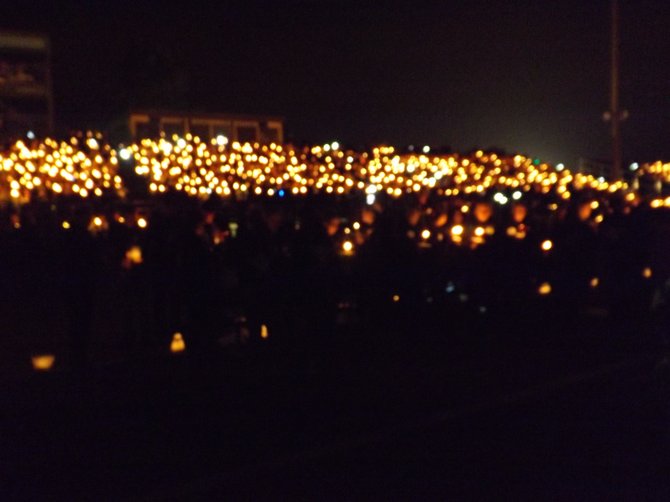 CLIFTON PARK — One word that could sum up what has happened in the Shenendehowa Central School District in the past few days: "community."
That word rises above "tragedy" or even "heartbreak," and indeed extends out beyond the school district. And it was epitomized Tuesday, Dec. 4, when thousands from not only the Clifton Park area but from all over the Capital District flocked to a candlelight vigil at the Shenendehowa High School Athletic Field for Chris Stewart and Deanna Rivers.
They lit candles, raised signs and shared stories about the students, whose lives were cut short in a weekend crash on the Northway.
The emotional remembrance was punctuated by the surprise arrival of Matthew Hardy, who along with Shaker student Bailey Wind was injured in the crash. When the crowd saw an ambulance pull up, accompanied by state troopers, thousands surged to their feet with a cheer that thundered through the stadium.
But most of the evening was filled with somber remembrance. A group of Shenendehowa football alumni who knew Stewart spoke of how sorely he will be missed.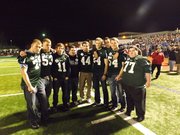 "This is so terrible and shocking," said Jesse Fulger. "He was like a little brother to all of us. I can't think of anyone more undeserving than Chris for this to happen to."
"As good as he was in class and on the football field, it doesn't even begin to compare how he was in day-to-day life," said Aaron Vassar.
Shenendehowa Superintendent L. Oliver Robinson seemed overwhelmed by the show of support.
"This is such an impact on not only the school, but surrounding schools," said Robinson. "The ripple effect is so wide, we tried to accommodate as many people as we could. This is the time to show our respect to the families."
The hour-long ceremony was sprinkled with moments of tears and laughter as speaker after speaker rose to share their memories of Stewart and Rivers, and share hopes and prayers for a speedy recovery for Hardy and Wind.
(Continued on Next Page)
Prev Next
Vote on this Story by clicking on the Icon