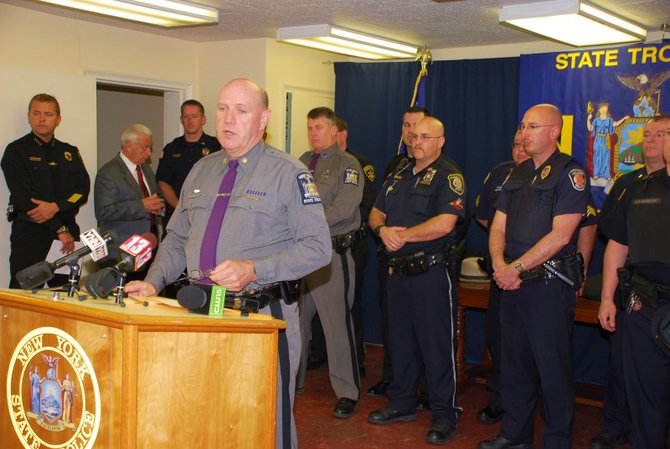 CAPITAL DISTRICT — A press conference was held Monday afternoon at troop G Headquarters in Loudonville, announcing for the next week State Troopers and local police agencies will target people talking on their cell phones while driving.
Major William Sprague said that an average text takes a driver's eyes away from the road for approximately 4-6 seconds. "Traveling at 55 miles per hour, that's like driving the length of a football field without looking at the road", Sprague said.
Sprague added, "Our youth are totally involved in the electronic world, it than becomes a problem when they try to do it while operating a motor vehicle at the same time." In 2009, more than 2,000 people died due to distracted driver accidents and nearly 450,000 were injured, and those numbers are increasing every year, Sprague said.
Major Sprague further stated, "Our goal is not to go out there to write tickets and collect more money, it is to raise awareness of the problem"
Albany County Sheriff Craig Apple pointed out that this problem is especially fatal for young people between the ages of 16 and 24 years old. Apple further stated, "It is a recipe for disaster"
Police from local agencies including Albany, Bethlehem, Colonie, Coeymans, Cohoes, Watervliet, and Albany County Sheriff's Department attended the press conference. Police agencies want to raise awareness of the dangers of using electronic devices including cell phones, ipads, and GPS systems, while operating a motor vehicle.
Vote on this Story by clicking on the Icon