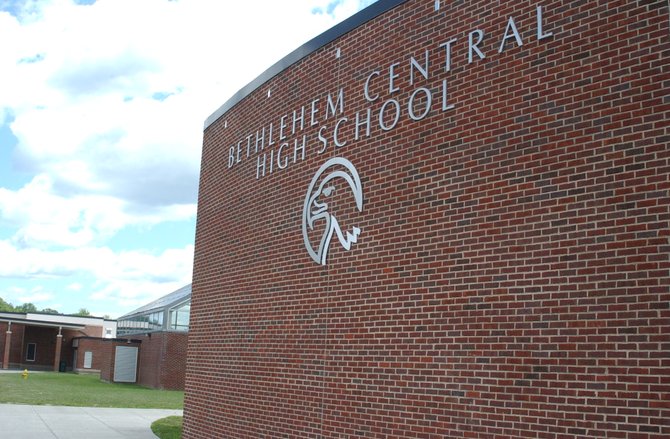 BETHLEHEM — After hearing comments from parents and residents late into the night, the Bethlehem Central school board voted to adopt a spending plan for the 2012-13 school year that challenges the state tax cap.
The adopted plan calls for $88,203,000 in spending for the coming school year and a tax levy increase of 3.99 percent. The new tax levy would reduce the budget gap to $3.8 million.
BC Superintendent Tom Douglas said the Board opted to adopt the budget during the meeting on Tuesday, April 3, instead of the intended date of Monday, April 23, after members decided they would challenge the levy limit to minimize to number of cuts in next year's budget. To pass the budget in May, at least 60 percent of those voting will need to be in favor of the plan, instead of a simple majority. If the spending plan is voted down, the district would have the option of revising it and putting it to a second vote.
"We've had community forums and budget workshops; we've listened to the feedback of the people who have been involved," said Douglas. "One thing we heard consistently is that a Bethlehem education is an excellent one the community would like to maintain."
The district will use $1.7 million in reserve funds to balance the budget. In addition, more than 56 full-time-equivalent positions would be eliminated, 22 of them teaching positions.
According to Chief Business and Financial Officer Judith Kehoe, if the new tax increase is approved by the public, reductions will fall midway into the tier two priority cuts established by the district. The previous plan would call for reductions through three of the four tiers.
The budget process largely consisted of the board holding discussions to prioritize spending cuts. At times, parents were vocal over saving athletics programs, special education assistance and "specials" in the elementary schools like art and music. Some parents were also upset over the possibility their children may have to walk longer distances to get to school.
(Continued on Next Page)
Prev Next
Vote on this Story by clicking on the Icon