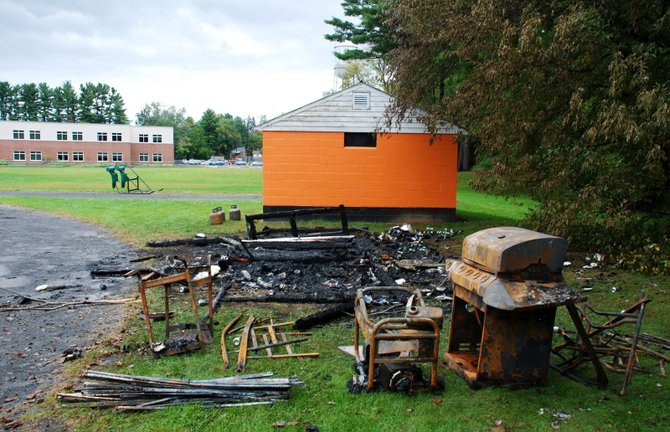 BETHLEHEM — Bethlehem police are investigating as arson a fire that burned down a shed near the Bethlehem Central Middle School on Friday, in the latest chapter of what Superintendent Michael Tebbano characterized as a "rash" of escalating acts of vandalism to school property.
He said over the summer and into this school year windows have been broken, gardens uprooted and fires set. Several BC and private school students have been apprehended but the vandalism continues.
"It's not any different than it was before," he said. "It's apparent there are a few kids out there what have no respect for the property of others."
Friday's fire completely consumed a shed owned by Bethlehem Pop Warner football near the athletic field at the Middle School. Bethlehem police received a call reporting the blaze from the Middle School's maintenance crew at around 8:45 p.m. on Friday, Sept. 23. The fire consumed the shed, which was owned by Bethlehem Pop Warner.
"At this point we have no arrests, we're following up on some leads and trying to determine the cause and origin," said Lt. Thomas Heffernan of the Bethlehem Police Department.
Earlier this year, vandals broke the windows of the same shed. The nearby school garden, planted in recent years by the school's Garden Club and whose bounty was used in the cafeteria and donated, was vandalized several times, Tebbano said.
Playground equipment at Slingerlands Elementary School has been damaged, a wall at the district offices was defaced and windows were smashed during a robbery attempt at Hamagrael Elementary, the superintendent continued. A fire has also been set in a dumpster behind the Middle School.
Tebbano said school principals will be stepping up their interactions with the student body on the topic of vandalism, additional security measures will be taken at schools and a letter will be going home to parents. He emphasized that the school will press charges against any culprits apprehended, and said several students are already facing disciplinary and criminal charges.
Police are asking that parents of BC students speak with their children about the arson and call police at 439-9973 with any information.
Vote on this Story by clicking on the Icon