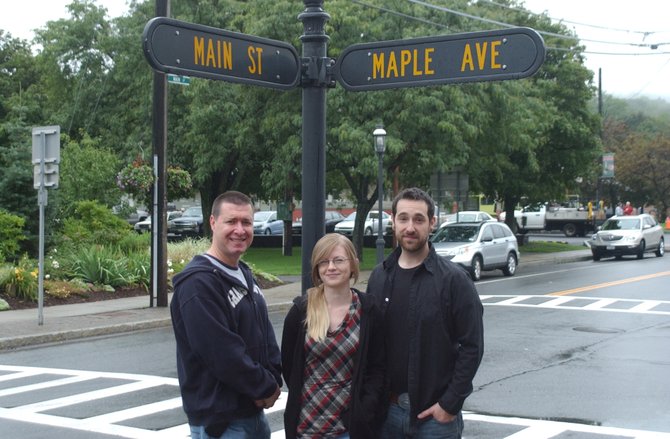 ALTAMONT — For the denizens of the quaint and quiet Village of Altamont, a night of fine dining or unwinding with a few drinks usually means striking out to a larger neighboring city or town.
But a group of entrepreneurs are looking to bring something entirely different to the village's downtown with a wine bar and bistro. Mio Vino is heading toward a mid- to late-October opening at the corner of Main Street and Maple Avenue, in the space previously inhabited by the Hungerford Market (which has moved to the back of the building).
Besides the venerable Home Front Cafe a few doors down, there are scant dining opportunities in the village. But the team thinks there's an opportunity on the streets of Altamont.
"We have the same business philosophy, and we just felt Altamont needed an eatery that was open past 2 o'clock in the afternoon," said Michael Giorgio, the owner of the building.
But they're not planning on the public showing up for lack of options. In fact, they'll have to draw customers in to be successful.
Chef Evan Sloan is planning a diverse menu that ranges from casual pub foods like burgers, sandwiches and simple dishes like macaroni and cheese priced between $5 and $10, and entrees between $15 and $19. In all things, he's planning to use locally grown, fresh ingredients and make dishes from scratch.
"We might only have six entrees on the menu, but it might change week to week," he said.
The centerpiece of the kitchen will be a wood-fired oven for baking pizzas and other dishes. The restaurant will have seating for around 50 patrons, with some more space at the bar. In addition to stocking a range of wines selected by a local sommelier, the bar will also have a selection of microbrews.
(Continued on Next Page)
Prev Next
Vote on this Story by clicking on the Icon