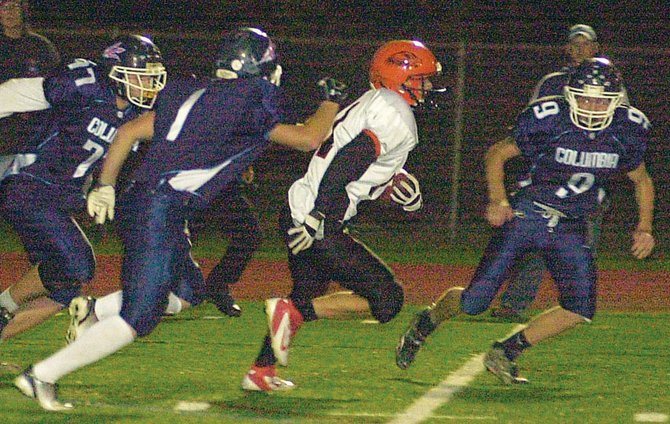 BETHLEHEM — It all comes down to Friday night in Delmar.
Guilderland (2-3 division, 3-3 overall) meets Bethlehem (2-3, 2-4) in an Empire Division football game. The winner earns the fourth and final Section II Class AA playoff berth in the division, while the loser gets a pair of crossover games to conclude the season.
"It's really fun when it comes down to this," said Guilderland coach Dan Penna. "In essence, you're getting an extra playoff game."
Penna and Bethlehem coach Rick Leach said that they feel that their teams are playing some of their best football of the season.
"We're definitely getting better," said Leach. "Our four losses have come against teams with a combined record of 21-3. If you look at the results of our Shen and CBA games [losses by scores of 50-0 and 53-3] and then look at the results against Ballston Spa [a 35-21 loss] and Columbia [a 29-18 loss], we've definitely shown improvement."
"I think we're clicking on offense," said Penna of his Guilderland team, which has beaten Colonie and Albany the last two games by a combined score of 86-20. "Defensively, we're running to the ball well."
Bethlehem's offense has gotten better since its early-season struggles against Shenendehowa and CBA. The Eagles have scored 71 points in their last three games – an improvement that has coincided with Leach's decision to move Trey Silver from running back to wide receiver, which was Silver's position last year with a high school team in North Carolina. Silver scored both of Bethlehem's touchdowns in last Thursday's 29-18 loss to Liberty Division co-leader Columbia.
"That was the first game where we saw the real Trey Silver," said Leach of the senior, who had four catches for 75 yards against the Blue Devils. "We had him at running back at the start of the season, and that was a spot he wasn't very comfortable in and we weren't comfortable with. Since we moved him to wide receiver, he's developed a comfort level, and [quarterback] John Gosstola has developed a comfort level with him."
(Continued on Next Page)
Prev Next
Vote on this Story by clicking on the Icon