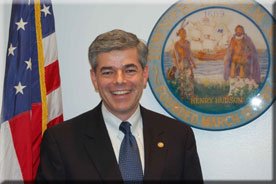 A former Bethlehem supervisor wants to be a part of town government again, but the future supervisor isn't in favor of the idea.
Jack Cunningham, who was supervisor from 2007-09, announced Wednesday, Dec. 14, in a statement that he will seek the board seat being vacated by Mark Jordan at the end of the year. Jordan ran unopposed for the position of town justice in November and will hold that position at the beginning of 2012.
"I continue to have a deep interest in the future of our community and believe that my background and experience will prove valuable as we work toward addressing the significant finance and management issues we will face in the coming years," said Cunningham.
As for support, Cunningham said he would ask supervisor-elect John Clarkson and Town Board members to back his interim appointment to the board.
But when asked about Cunningham's interest, Clarkson said he would not support the appointment.
"I respect Jack's willingness to serve and certainly he is welcome to run for election next year," said Clarkson. "However, I think that it is highly inopportune for him to seek a Town Board seat via appointment. This fall's election was very much a referendum on the voters' right to choose, and given that history the appointment of a political committee vice-chair would be inadvisable."
Cunningham is the first vice chairman of the Bethlehem Democratic Party's Executive Committee. He has also announced his intention to run in the special election that will be held next year for the board seat, whether he is appointed to the board next month or not.
"It's been my belief all along, even in other instances where things have occurred similar to this, that the candidate that's selected to fill the vacancy should also be committed to completing the term," said Cunningham. "I'm fully committed to running in November. I intend to run in November.
(Continued on Next Page)
Prev Next
Vote on this Story by clicking on the Icon