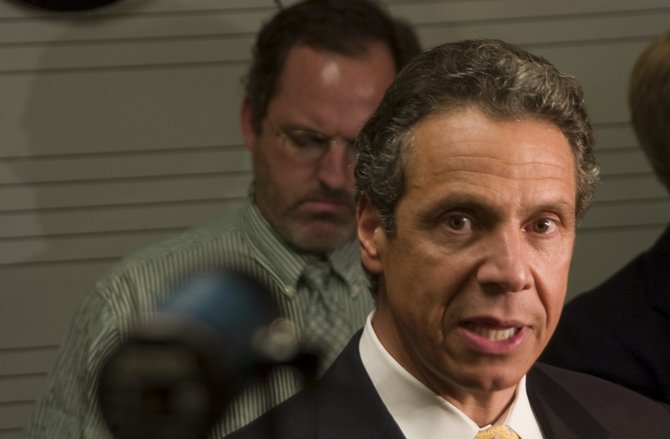 SCHENECTADY — Gov. Andrew Cuomo on Thursday, July 28, announced the members of the Capital Region Regional Economic Development Council at Schenectady County Community College.
Politicians from state and local governments were in attendance along with guests invited by the governor as he announced the council would be led by Shirley Ann Jackson, president of Rensselaer Polytechnic Institute, and Michael Castellana, president and CEO of SEFCU. Each of the 10 regional councils is chaired by Lt. Gov. Robert Duffy and has co-chairs from the academic and business community.
The councils will compete against one another to submit plans for economic development to attain the biggest chunk of the $1 billion in state funding. The Capital Region council represents Albany, Schenectady, Saratoga, Columbia, Greene, Rensselaer, Warren and Washington counties.
"This is going to be the first day in the Capital Region where the competition starts to really transform the economy," said Duffy. "I don't think any governor in our history has accomplished more in the first seven months of his term than Gov. Cuomo has."
Creating jobs for the state, said Duffy, is the governor's main concern. The approach is from the "ground up," he said, with a focus on communities finding solutions to their problems.
"In the past, it was all fragmented. … Now the governor has put in place a unified application process," said Duffy. "You cannot choose to split the state. You cannot choose to pit Upstate versus Downstate. This is going to be regional based like neighborhoods across the state."
The applications are due from all the councils by the end of November, and the state will decide on funding by the end of the following month, to bring a bright or bleak start for a region in the new year.
Sen. Hugh Farley, R-Niskayuna, said becoming a more business-friendly state and creating jobs is vital to economic recovery.
(Continued on Next Page)
Prev Next
Vote on this Story by clicking on the Icon